A recession can be a scary time for business owners of any size. When running a start-up or small business, a recession can feel particularly frightening — but small businesses are notoriously resilient. If you are concerned about heading into a recession, here are 11 strategies for keeping yourself afloat during economic hardship.
1. Review Your Business
With a recession looming, the best thing you can do is stay prepared. Do that by conducting a review of your business. This will allow you to make changes that will positively impact the company's future.
"Businesses need to take a long hard look at their operations in full when talks of a recession occur. This will enable them to plan for financial and economic hardship," maintains Josh Keller, Founder of OTTO Quotes.
As you review, focus specifically on key areas, including your business's organizational structure, margins and profits, operating costs, and employees. When preparing for a recession, looking at the entire picture is important.
2. Don't Make Rash Decisions
One of the first rules for a recession is not to panic. Before you fire half your workforce, terminate leases, and scale back operations, consider the long-term effects of your actions. Decisions made in a state of panic rarely make for good business outcomes.
"It's all too easy to panic when a recession hits, but try to remain calm. It is much easier to weather the storm with a level head," reminds Dominique Zimmermann, CEO and head Designer of Bombshell Sportswear.
Take some time to think things through before starting to consolidate your workforce or real estate. Try not to let stress lead the way.
3. Build a Cash Reserve
Build up a cash reserve before a recession to become more recession-proof. Start building your reserve by creating a budget that lets you put away a portion of your monthly profits. This is the money you'll use to stay afloat during the downturn.
"The money you reserve when times are good will help you survive when times get tough. You should never find yourself without a cash reserve, especially if you are a smaller business," advises Nabeel Abdullah, CEO of Sapphire.
Make a point to stay on top of your invoices and receivables. You'll want to resolve any potential issues with clients who make late payments before trouble hits and protect your cash flow while you have it.
4. Rethink Major Investments
One of your best defenses against a recession is to rethink how you spend your money. If you have any major expenditures planned, consider if you can put them on the back burner until things stabilize. You don't want to end up in a situation where you have to borrow money at a higher rate during a recession.
"You never want to stop investing in your business, but a recession is a good time to table some of your loftier financial plans. If you can't invest back promptly, save them for when things start to ease up," recommends Shaun Hinklein, Head of SEO at Ramp, a company specializing in business credit cards.
While equipment upgrades or new building leases are a good investment when the economy is doing well, they can be a huge risk during a recession. You'll want to avoid risk as much as possible during hard times, so consider investments before committing.
5. Keep Operating Costs Low
Small businesses will want to lower operating costs as much as possible during a recession. During your business review, you determine how much money it costs to run your business, so you'll know if there are any operating expenses you can cut. You can pivot to producing the products with the highest profit margin if backed into a corner.
"Staying afloat during a recession will require you to focus on areas with a high profit margin. If any of your products or services are bringing in a profit margin under thirty percent, consider scaling those operations back," says Marcus Hutsen, Business Development Manager at Patriot Coolers.
While cutting back on operations can feel like taking a step back for an up-and-coming business, doing so will allow you to bounce back stronger. When your finances stabilize, you can return to your full operating volume without issue.
6. Automate Where You Can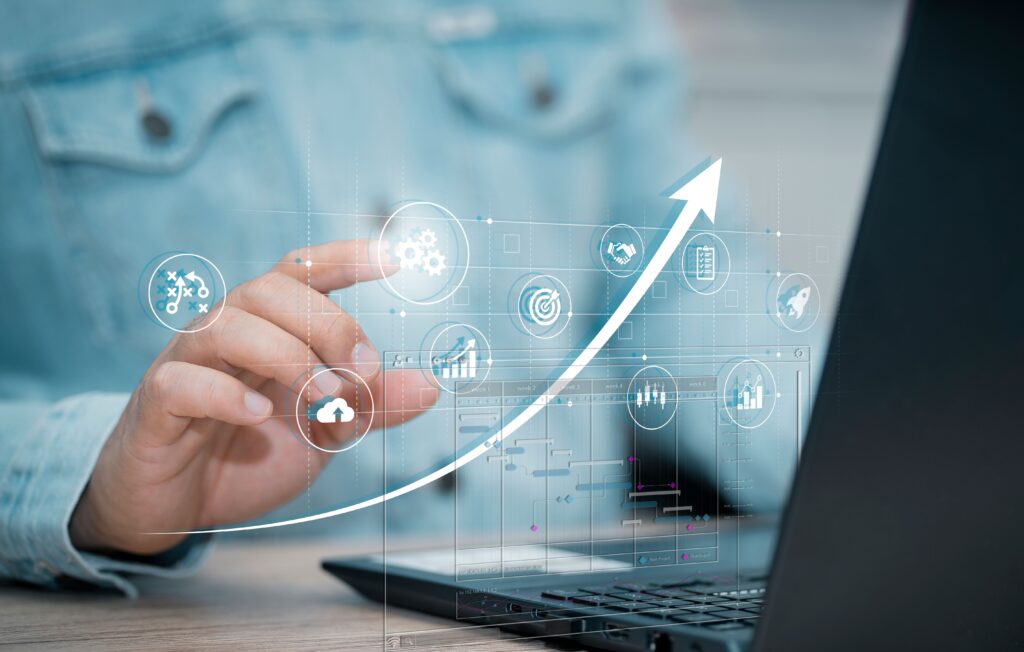 Automation is a great way to cut costs during a recession without compromising efficiency. Automation is one of the best ways to increase productivity in or out of a recession. Tasks that are repetitive, time-consuming, or prone to human error can all be automated.
"Automation is a business's greatest gift in the age of technology. Not only will it save you money, but it will increase productivity and efficiency in all areas of your business," points out Ryan Rottman, Co-Founder and CEO of OSDB.
While automation can require some upfront cost depending on the area of focus, the payoff is usually worth it. If you can start investing in automation ahead of a recession, you should do so. This will prevent you from having to front costs while money is tight.
7. Communicate With Suppliers
You'll want to get ahead of communication with your suppliers and partners before the recession hits. Ensure everyone you work with is on the same page regarding your business's needs. This will help maintain positive relationships with your partners, even if you deliver bad news.
"Treat your suppliers as you want to be treated during a recession. If your order volume is changing significantly, they'll need to know ASAP to plan for the future of their own business," suggests Asker A Ahmed, Director of iProcess Global Research.
Uncertainty will be a concern for all businesses ahead of a recession. Cutting down on that uncertainty by being clear about your needs is a good business practice. If all else fails, you can seek out alternative suppliers ahead of time.
8. Find Alternative Revenue Streams
One term you will often hear during a recession is "pivot," referring to a shift in operations due to a changing market. This can include changing organization structure, rebranding, or new product development.
"Diversification of revenue streams keeps many small businesses going during economic uncertainty. You have to be adaptable enough to adjust with the market as it shifts and changes," mentions Cody Candee, Founder and CEO of Bounce.
During the pandemic, we watched businesses of all kinds pivot to stay afloat. Sit-down restaurants started offering to-go and meal kits, clothing companies made masks, and tenting companies started providing pop-up COVID testing sites. These strategic pivots helped businesses of all sizes survive during a financial catastrophe, and the same idea can be applied to future recessions.
9. Never Stop Marketing
When cutting costs, many businesses will slash their marketing budget first. While marketing may not seem necessary, a recession is not the time to stop bringing in new business. If customers don't know who you are, they can't purchase your product or service, and you'll lose sales.
"Never stop trying to bring in new business. There is no reason to cease marketing campaigns when a recession hits unless you are looking to lose potential sales," says Travis Mydock, DUI & Criminal Defense Attorney at Mydock Law.
There are less expensive ways to advertise, such as paid campaigns on social media. If you must cut costs, do so without ceasing all marketing efforts. If you have pivoted as a business during this time, showcase the changes in your marketing for better results.
10. Prepare Your Employees
As scary as a recession is for you as a small business owner, your employees are just as stressed about losing their livelihood. You must prepare them for the incoming recession as best you can. Cross-train the employees you do have and avoid over-hiring to help you keep your team intact.
"Some people will leave a job for more money, and some people want to be appreciated where they are. It's a matter of listening to people on your team and being responsive to what they're saying," Jessica Johnson-Cope, CEO and president of Johnson Security Bureau.
If you are worried about being able to keep employees on board, consider hiring more contractors and freelancers. This will help you to invest in the full-time employees you do have and avoid layoffs when possible.
11. Emphasize Customer Retention
A recession is a chance for you to focus on the customers you already have. When things are slowing down, there is no better time for you to ramp up your customer service efforts. This will help establish brand loyalty with those who already use your products or services.
"If you show loyalty to your customers, they will return your loyalty. Repeat customers will make up a majority of your total business. Never forget that," points out Christian Kjaer, CEO of ElleVet Sciences.
Remember that it's cheaper to market to people who already know who you are — the people who follow your company's socials, frequent your website, and sign up for email campaigns. Use these channels to draw in business with sales or early access to new products or services.
Making the Most of a Downturn
While a recession may seem like a death sentence for small businesses, that is far from the case. On the more positive side, most recessions have been relatively painless. Overall, the U.S. economy has been resilient; chances are your business will be too.
"The raw resiliency of the small business community is nothing short of remarkable," said Joe Wall, national director of Goldman Sachs 10,000 Small Businesses Voices. "They are arguably the most creative gene pool in the country, being able to pivot at a moment's notice and weather the storm."
Try to stay positive and do everything you can to prepare. Owning a small business means that you'll have to take extra steps to protect yourself from financial hardship. The good news is that you will pull through stronger than ever if you're well-prepared.
Written in partnership with Pressmate.